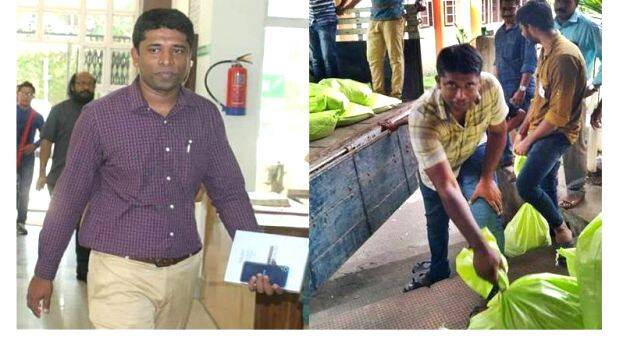 KOTTAYAM: Malayali Civil Service Officer Kannan Gopinathan (31), who had worked day and night in Kerala for flood relief operation last year, without revealing his identity, and won the hearts of Malayalis later, has resigned. The hint is that the political pressure is the reason for his drastic step.
I want my freedom of expression back. I want to live like me, even if it is for a day," Kannan Gopinathan, a 2012-batch IAS officer , who submitted his resignation to the Dadra and Nagar Haveli administration Wednesday, said.

Kannan held the post of secretary of key departments like power and non-conventional energy sources in the administration. "If you ask me what you were doing, when one of the world's largest democracies announced a ban on the entire state, and even violated the fundamental rights of the people, I should at least be able to reply that I resigned my job," he said in the interview.

"I joined civil service with the hope that I can be the voice of those who have been silenced. But here, I lost my own voice. The question is not why I resigned, but how I cannot. I don't think my resignation will make any impact. But when the country is going through a turbulent time, when someone asks me what I did, I don't want to say, 'I took leave and went on to higher education in the US.' It's better to quit the job," he said.
"We used to say to change a system we should be in the system. I tried a lot. But I have no hope of correcting this system. People know how much I have done for them. But that is not enough. I have no savings and I am currently living in the Government rest house. I don't know where to go from here if I am asked to leave. My wife has a job. She is very supportive of me. That gave me immense courage," Kannan added.
Kannan is the only son of Kottayam Kooroppada Chandanathu native Gopinathan Nair and Kumari. During the last flood, he had travelled to Kerala on an official trip as Haveli Nagar district Collector to hand over Rs One Crore to the chief minister.

But the sight of flood miseries melted his heart and for the next eight days he got immersed in flood relief works, carrying even sacks of flood relief materials on his shoulder.

He had first reached the collection centre at Thiruvananthapuram Nishagandhi auditorium. From here to Pathanamthitta, where he joined youths for relief works.

He even lived in nearby lodges during this period. Finally, outer world came to know about his identity only when Ernakulam Collector Muhammed Safeerullah spotted him at an Ernakulum camp.