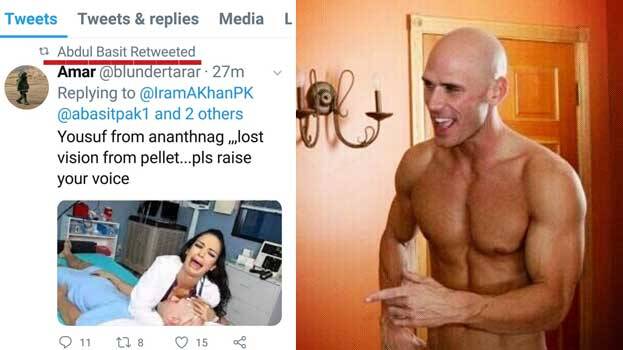 NEW DELHI: Adult movie star Johnny Sins has taken a dig at former Pakistan diplomat for sharing his picture as a Kashmiri youth. Earlier former Pakistan High Commissioner Abdul Basit had retweeted a picture of Sins with the caption, 'Yousuf from Anantnag ...lost his vision from pellet...pls raise your voice.'
Following Basit's tweet, social media users from various parts of the globe noticed the mistake and soon Basit found himself as prey to online trolls. Later, Johnny Sins came to know about it and thanked Basit for helping him to gain more number of followers through his tweet. He said, "Shout out to @abasitpak1 for all the new twitter followers! Thanks but my vision is fine."
Basit had retweeted Sins' picture as he mistook the adult movie star to be a Kashmiri youth who was injured in the police attack. It was media person Naila Inayat who pointed out his mistake following which Basit deleted the retweet.