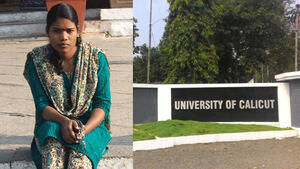 KOZHIKODE: A research student on Monday raised serious allegations against her department head in Calicut university for delaying her thesis. It was Dalit student Sindu P who said that the department head has displayed caste discrimination by delaying her thesis. Sindu, a Ph.D. scholar in the university, presented her thesis on the topic 'Malayala Kerala study' on August 30.
According to her, the thesis must be submitted with the approval of the department head by September 6. However, Malayalam department head Dr. N Thomaskutty had delayed her thesis until the last minute without any valid reasons. She also claimed that the head, in the meantime, had approved the theses of those who have submitted much later than her. She said, "He has delayed my thesis only because I belong to the Dalit community."
Sindu has made the allegation through her Facebook page. She added that when enquired about the delay, Thomaskutty replied that the legal procedures regarding approval will take some time. She pointed out that she had presented the thesis on August 30 after receiving a recommendation from the Doctoral committee which was headed by the department head himself.