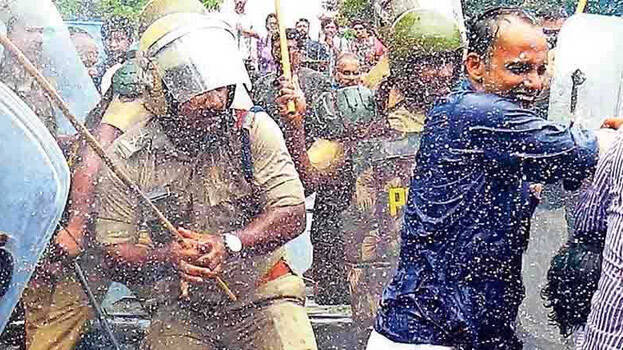 KOCHI: SI Vipin Das, who recently had to face suspension over police action against CPI leaders during a demonstration, has shared this message on the social media: If you show too much sincerity to your job, you will have to starve during Onam, hence be sincere only to your family.

Vipin Das has posted this message as his WhatsApp status.

"Show your sincerity only to your family or else you will have to starve like this. You should remember this when you go to investigate a case using money from your family" – this is the translation of his Whatsapp status.

Vipin Das, who was the Central Station SI, was suspended based on the complaint that he had beaten CPI MLA Eldo Abraham during the party workers' march to IG office.

The action was taken against SI at the end of days of CPI protest the CPI in the wake of the evaluation that Eldo got beaten up due to the SI's negligence.

The March was taken, demanding action against Njarakkal SI, who was accused of unlawful activities. The controversy began after CPI district secretary P Raju and Moovattupuzha MLA Eldo Abraham allegedly got beaten up by the police.