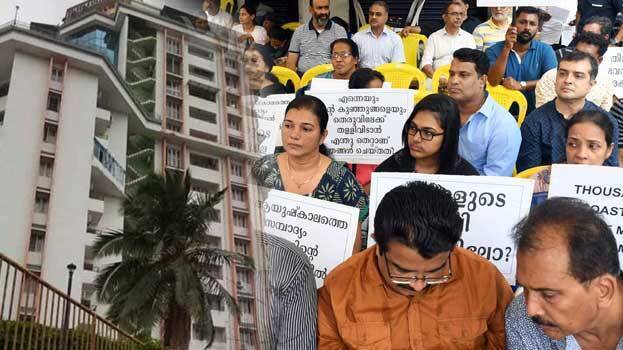 KOCHI: Marad flat owners have made it clear that they won't vacate the flat unless they get the compensation for which they are eligible. As many as 12 flat owners made this point clear in reply to a notice of the Marad Corporation that asked the occupants to vacate immediately.
Now, just two days are left for the deadline given by the Corporation to end. Meanwhile, by Monday, a clear picture will emerge on the body authorised to demolish the flat.

In the notice pasted by the Marad Corporation on the walls of the flat, it is said that if the flats are not vacated within five days, the occupants will have to face legal consequences.
In five flats, about 350 families are residing. Most of them are not permanent residents. Even when the flat openers are intensifying their protest, the Marad corporation is going ahead with its steps for demolition.

Meanwhile, the flat owners will submit a memorandum to the prime minister and the president, making an appeal to not evacuate them for the violation of law committed by construction companies. They called for a favourable intervention of Central and State governments.

May persons including Justice Kemal Pasha had come out in support of flat owners.