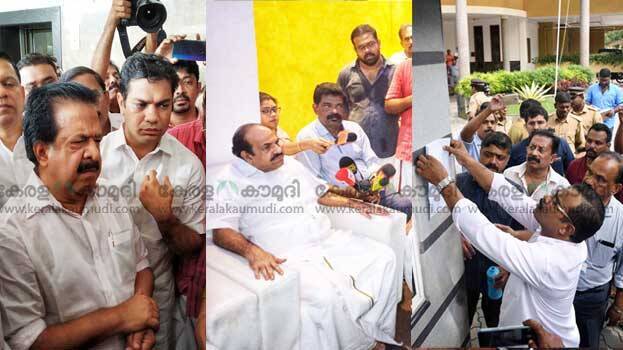 KOCHI: As the deadline for evacuation issued by the Maradu municipality will come to an end today, the flat owners in Maradu intensified their protest against the Supreme Court order. The flat owners will launch a hunger strike against the order from today onwards. It is learnt that 12 flat owners who received notices from the municipality have replied in writing that they will not evacuate today.
Meanwhile. several political leaders including Ramesh Chennithala, Kodiyeri Balakrishnan and P Sreedharan Pilla have come out supporting the flat owners. While visiting the flats, opposition leader Ramesh Chennithala asked the state government to submit a new report to the Supreme court. He also urged the government to obtain permission to submit the new report by filing an affidavit at the Supreme Court by citing that the subcommittee had made certain mistakes regarding the case. CPM State Secretary Kodiyeri Balakrishnan said that the party stands with the flat owners and will recommend the government to consider the legal side of the issue.
Earlier, the Supreme Court had ordered to demolish the flats in Maradu for violating the Coastal Regulations rule. Following this, the Maradu municipality had issued a notice to the flat owners asking them to evacuate by September 14. However, none of the flat owners except those of 'Golden Kayaloram' were ready to receive the notice. Later, 12 flat owners in 'Kayaloram' replied that they will not evacuate their apartments within the deadline.
It is learnt that the flat owners have claimed that the notices were handed over in an unlawful manner. They also said that the flats in Maradu would not come under the Coastal Regulations rule as they were built even before the rule came into force. Municipality Secretary Arif Muhammed Khan has confirmed that he has received the letters from the flat owners.