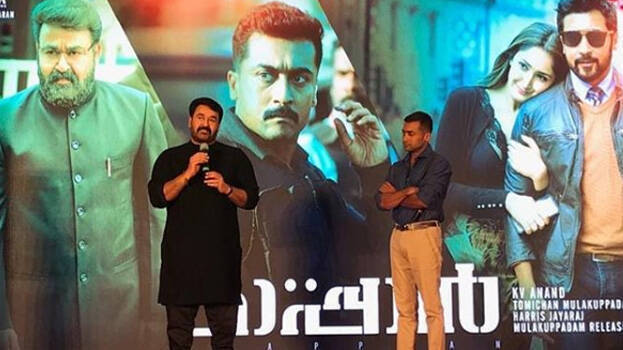 Actor Suriya corrected the anchor during the press meet held in Kochi as part of the promotions of 'Kaappaan' which has the Tamil actor and Mohanlal in lead roles. The anchor while anchoring said Suriya and Mohanlal. The Tamil actor soon came forward and said there is a minor 'correction' in what you said. Don't say superstars Suriya & Mohanlal. His name should be mentioned first and my name after that. Suriya said this while he was standing in the stage with Mohanlal.


'Mohanlal sir is a great banyan tree and me a little mushroom. It's just about being together on a stage. You can never compare us. I am fortunate to have acted with the super star. I would be grateful to director K V Anand to happen this', he said.
I had to say 'no' first due to my busy schedule when invited to act in 'Kaappaan', said actor Mohanlal. I was forced to find time and later yielded to Anand's constant pressure, he said.

K V Anand via Antony Perumbavoor made me say 'yes' finally. Mohanlal said the decision to shoot for the film turned right when the shooting started.
Mohanlal plays Prime Minister in the film Kaappaan meaning the 'guardian'. Suriya plays special protection group commando to the Prime Minister. Sayesha is the heroine of the film. Her husband Arya too has a main role in the film.
The film produced under the banner of Lyca Productions will release on September 20. The film will release in Kerala on the same day itself. Mulakupadom Films has taken Kaappaan's Kerala distribution rights.