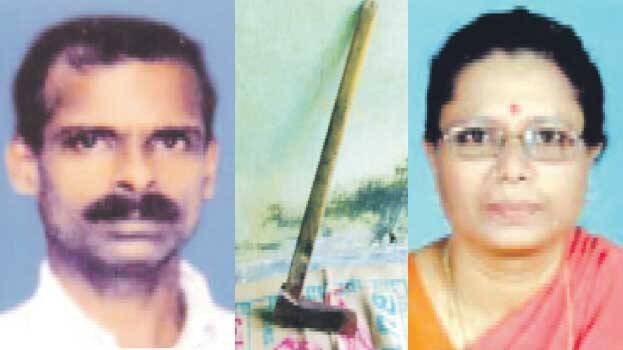 THIRUVANANTHAPURAM: It has been five years since a house woman called Girija was axed to death by her husband, who is still absconding.
Till date the police have not been able to get any clue about the accused. Police have submitted the charge-sheet, despite having no idea about his whereabouts.
The murdered person Girija (45) was a resident at Kattakada in Thiruvananthapuram.
The accused is Pathanamthitta native Khadarkutty (55). The murder happened on February 15, 2014.
Girija was going through hard times when she got acquainted with Khadarkutty, who was known to her sister. About 31 years ago, her husband Dharman died. After that she was living with her mother Krishnamma and son at a house on 8-cent land at Karandakam.
Khadar reached Girija's house for the first time about 15 years ago. He took a rubber plantation near her house for lease and handed it over to Girija for getting the tapping of 40 rubber trees done.
Unmarried Khadar, who used visit her house once in a month to collect the rubber sheet, one day expressed his desire to marry her. Girija, though was a bit hesitant, finally agreed to marry him.
Khadar was a hard-working labourer and their life was flowing smoothly. Her life became horrible after he became an alcohol addict. Drunken brawl became a usual thing in the house. He often picked a quarrel with Girija after drinking heavily and even beat her up.
By that time, her son Pratheesh had shifted to a house at Uttaramkotta follwoing his marriage.
Khadarkutty's friend Sunny also often joined him the boozing sessions at Girija's house. On the eve and day of the murder, they drank together at the house. On that tragic day, Girija had quarrelled with Khadar. Early morning he woke up and under the influence of alcohol, allegedly, hacked Girija to death.
After the murder, Khadarkutty reached Pratheesh's house and said that he was leaving as he had quarrelled with Girija.
Girija's body was first spotted by locals, who soon informed the police.

Khadarkutty escaped from the spot and his presence was later traced at Aryanad and Ponmudi. His mobile phone was active for three days. It is reported that the police were able to contact him over phone, when he agreed to surrender. But this never happened. Now, to begin the trial, police will have to arrest him, which appears to be a difficult task for them. A lookout notice have been issued against Khadar.