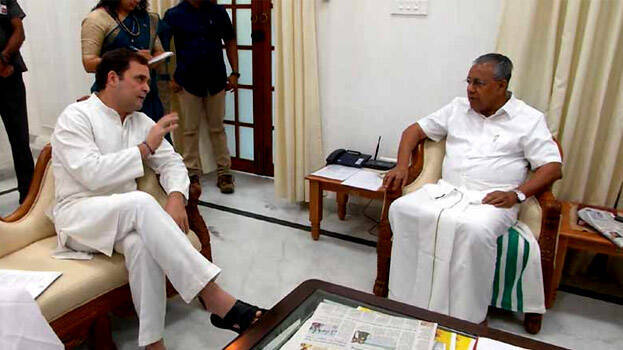 NEW DELHI: Wayanad MP Rahul Gandhi on Tuesday held a meeting with Chief Minister Pinarayi Vijayan in connection with the existing ban on night travel in Bandipure.
Rahul Gandhi told the chief minister that traffic ban was creating hassles for the people and urged the chief minister to find an immeidate solution to this problem.
"The chief minister has assured me that he would bring the matter to the notice of the Centre and attempts are being made to resolve the issue very soon," Rahul said, adding that he would visit Wayanad within two days.
Rahul Gandhi said he also had discussed with the chief minister matters such as distribution of flood relief and rehabilitation of flood-affected people
Meanwhile indefenite hunger strike has been going on since Wednesday in Wayanad district on the Centre's move to close down the stretch of Kozhikode-Mysuru-Kollegal National Highway 766 passing through the Bandipur Tiger Reserve.
The National Highway passes through Kozhikode and Wayanad districts in Kerala. About 19.7 kilometre stretch of this passes through Bandipur Tiger Reserve and Wayanad Wildlife Sanctuary.
Night traffic, from 9 pm to 6 am, is already restricted in the area. Recently, the Supreme Court had asked the Centre to suggest alternatives so that the stretch passing through the forest reserve can be closed.
While considering the petition against the ban that has been in place for the past ten years, the Supreme Court had sought suggestions from the Union Environmental ministry on closing the higway road even during day time. It was under this circumstance that the people started the hunger strike.
The night traffic was banned on 2010 after Karnataka high court issued an order in this regard, poitnting out that the traffic was a big threat to the wild life here.