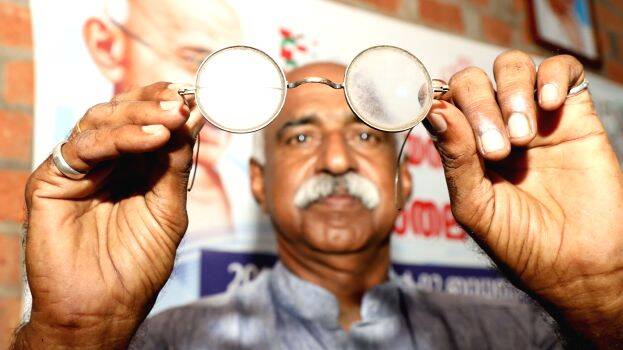 ALAPPUZHA: Even after receiving an offer of over 1 and a half crores, Joseph K Palathra is reluctant to sell the special spectacle to anyone. The reason behind this reluctance is that the spectacle belonged to one special person- Mahatma Gandhi! Joseph, a jewelry worker in Alappuzha, says that the glass has a 92-year-old story to tell.
Gandhiji, while visiting Kerala in 1927, rested for some time at the house of Naoroji Sett. However, while attempting to leave, Gandhi broke his glass. Thus Sett gifted him a new spectacle and kept the old spectacle with himself. It was Naoroji Sett's grandson who gifted the spectacle to Joseph in 1982 before leaving for Mumbai. Joseph was the Alappuzha area president then.
Though efforts were made by many to buy the glass, Joseph was not ready to let it go. He even denied the offers worth crores by foreign tourists. "I plan to hand over the spectacle either to my children or to anyone whom I can trust." Though the archaeological department attempted to take over the glass, Joseph was not ready to give it up as he feels that he is its watchman.