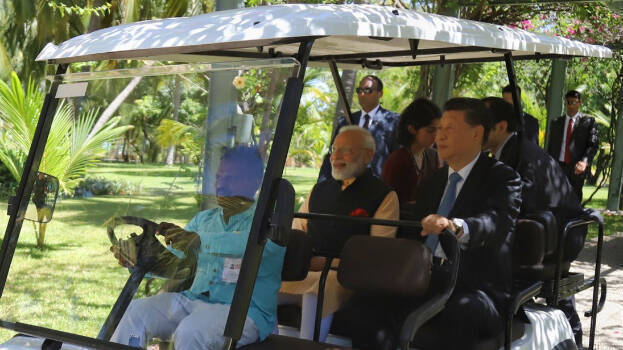 MAMALLAPURAM: The Kashmir issue was not raised or discussed during the second informal summit between Prime Minister Narendra Modi and Chinese President Xi Jinping, according to Foreign Secretary Vijay Gokhale.
India had previously taken exception to references concerning Kashmir following talks between Xi and Pakistan Prime Minister Imran Khan ahead of the Chinese President's visit to India for the informal meet.
"We have seen the report regarding the meeting of Chinese President Xi Jinping with Pakistan's Prime Minister Imran Khan which also refers to their discussions on Kashmir. India's position has been consistent and clear that Jammu and Kashmir is an integral part of India. China is well aware of our position. It is not for other countries to comment on the internal affairs of India," Ministry of External Affairs Spokesperson Raveesh Kumar had said at a briefing this week.
The leaders of the nations agreed that it was important to deal with the challenges of terrorism and radicalization in an increasingly complex world and talked about the need for enhancing defence cooperation.
"Both PM and Xi emphasized on the importance of having a rules-based global trading system," Vijay Gokhale said.
The Foreign Secretary said the leaders also discussed climate change issues and how to deal with the environmental issue.
"A new mechanism will be established to discuss trade, investment, and services, at an elevated level. From China, it will be the Vice Premier, Hu Chunhua and from India, it will be FM Nirmala Sitharaman", Vijay Gokhale said.
Modi also thanked Xi Jinping for his visit to India.
"I thank President Xi Jinping for coming to India for our second Informal Summit. The #ChennaiConnect will add great momentum to India-China relations. This will benefit the people of our nations and the world," PM Modi tweeted.
President Xi Jinping also invited PM Modi to China for the next summit which the PM has accepted. However the dates have not been fixed.
PM Modi also thanked Tamil Nadu govt for efforts in organizing Mamallapuram summit