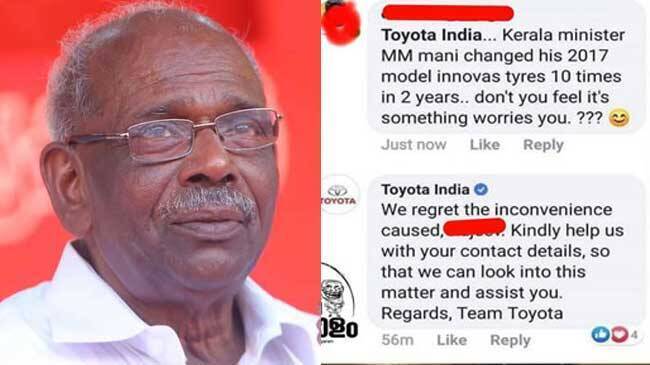 THIRUVANANTHAPURAM: Kerala Electricity Minister M M Mani, is famous for his sarcastic blabbering and that is often folowed by trolls on social media.

But anti-Mani trollers had a feild day on Tuesday when the reply to Right to Information Act query on the money spent by the Kerala government for replacing the tyres of vehicles used by the Left Democratic Front ministers came out.

The reply to the query by an Ernakulam native showed Mani topped the list with 34 replacements of tyres over two-and-a-half years, which cost around Rs.3.4 lakh for the government.

The statistics show that the tyres of the power minister's official posh car KL 01 CB 9340 were replaced every month. Two of the tyres were replaced nine times, while the other two eight times.

The Minister uses an Innova Crista for his official purposes. The price of one tyre of Innova is anywhere between Rs. 10,000 and Rs. 13,000. When a tyre will last till the car covers 50,000 km to 80,000 km, it is a mystery why the tyres were changed ten times in this short duration.

Trollers aksed whether the minister was living in the car since a new tyre could cover a distance of minimum 50,000 km. One troller even put up a post of the picture of an Innova car with 16 tyres.

Mani is not the only minister in the cabinet with tyre replacement history. He is followed by Forest Minister K Raju, who is from CPI, the CPM ally . He had 19 replacements in the last 30 months.

The next in line to have spent record amount of money on tyres is the Transportation Minister, A. K. Sasidharan; he changed 13 tyres of his Innova car.

However, Agriculture Minister Sunil Kumar and Revenue Minister E Chandrashekharan had the least replacement- that is just one during this period.

The total tyre replacements made by all ministers in the Pinarayi Vijayan cabinet is 183.