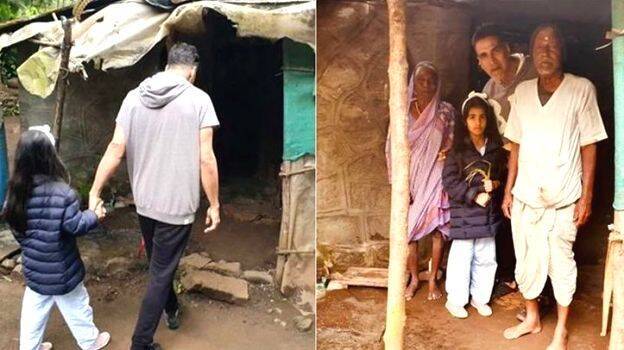 During a recent trip, actor Akshay Kumar was out with his daughter on a morning walk when the two of them walked into an elderly couple's hut to ask for some water. The actor's Instagram post about how the couple warmly welcomed them, and also served them food, is now going viral.
Touched by the heartwarming gesture of the couple, the Housefull 4 actor said the experience was an important life lesson for his seven-year-old daughter, Nitara.
"Today's morning walk turned into a life lesson for the little one. We walked into this kind, old couple's house for a sip of water and they made us the most delicious gur-roti. Truly, being kind costs nothing but means everything!" the actor wrote online sharing two photos of them along with their hosts.
https://www.instagram.com/p/B4Rt4ZPn19x/?utm_source=ig_web_copy_link
The post garnered over 85,000 likes on Twitter, while on Instagram it received over 2 million likes. Many praised the elderly couple for their hospitality and agreed with the actor that humility and kindness are true wealth. Some also wondered why Kumar had a cameraperson following him during his morning walk.