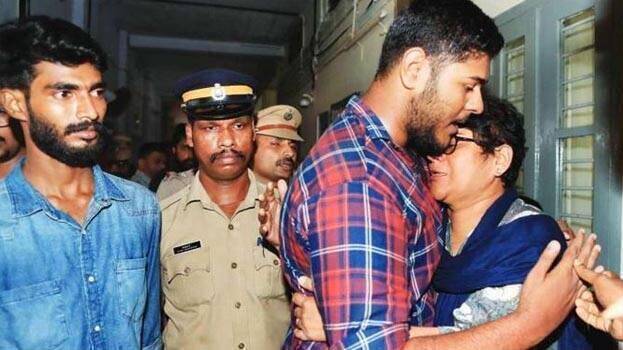 THIRUVANANTHAPURAM: On Friday, Thalassery-based law students Alan Shuhaib and Thaha Fasal, were reportedly seen distributing brochures with pro-Maoist content at the Pantheerankavu market when the police went there to arrest them. They also allegedly chanted pro-Maoist slogans at that time.

Both students are CPM members. While Alan Shuhaib is the local Kozhikode Kallai Thiruvannur branch member of the party, Thaha is the DYFI unit secretary of the Pantheerankavu local branch. Alan, who was also a former area committee member of the SFI, lost his membership after he shifted to Thalassery to pursue a degree in law.

Both are now in judicial custody and the police have invoked UAPA charges against them, leading to a growing controversy. Even as the voice of protest against booking them under serious charges is prevailing, the police today (Tuesday) released more evidence and pictures in a bid to prove Alan Shuhaib guilty.

The pictures are the ones in which Alan can be seen posing with people belonging to organisations, banned in India. The investigation team has handed over the copies of the pictures to the DGP.

According to sources, the photos of Alan in possession of the investigation team are the ones taken in years before 2015. It also included pictures of certain protest programmes organised in Kozhikode.

The finding of the police is that Alan worked with banned organizations even when he was still a minor. His school authorities had also informed the police about this but no action was taken against him, considering his age. However he has been under the observation of police and intelligence wing since.

"Alan had been in constant touch with banned organisations. Others found in the photos are also persons who worked with banned organisations," the police added.