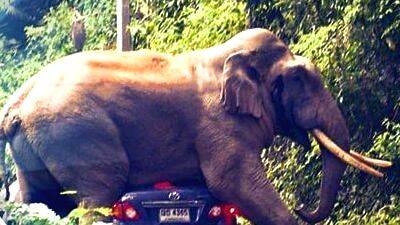 A large bull elephant attempted to sit on a passing car in Thailand's Khao Yai National Park. The bizarre incident, which was caught on video, soon made its way to social media.

The 35-year-old Duea was seen attempting to sit on the car, which was carrying tourists. The elephant walked around the vehicle before it decided to put its entire weight on it.
Though the driver managed to escape, the brief interaction broke the rear window and left a few dents on the body of the car. No injuries were reported. According to local reports, the incident also prompted the park authorities to remind visitors on how to react in such situations.

According to Bangkok Post, the post suggested visitors to stop their vehicles at a distance of 30 meters if they encounter an elephant on their journey. They were also advised not to come out of the vehicles to take pictures.