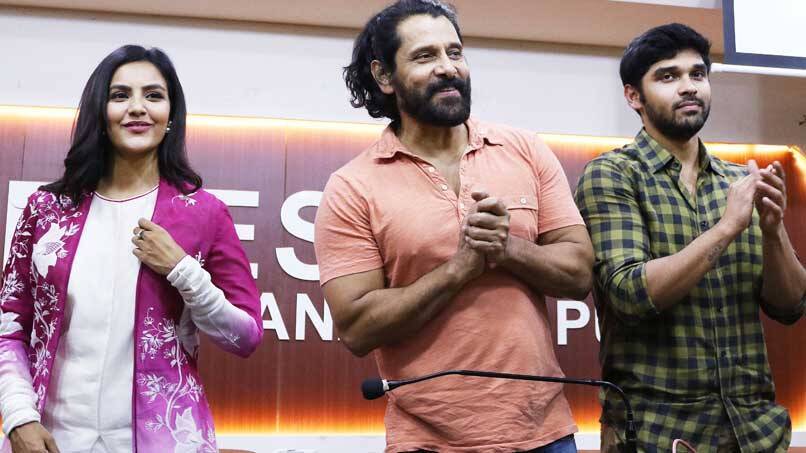 THIRUVANANTHAPURAM: Talking to the media in the Press Club here, Tamil movie actor Vikram said that doing a Malayalam movie is in discussion and will make a decision after completing the movies in contract. The actor accompanied by actor and son Dhruv and actress Priya Anand came down to the state capital to promote his son's upcoming movie 'Adithya Varma'.
"Acting in Malayalam is one of my favourite things to do. My return to Malayalam was delayed as the movie 'Karnan's' shooting got delayed. At this time I got in contract with other Tamil movies. Now I am in contract with three Tamil movies which has to be completed in long schedules. After this, I will join Karnan. I am also in talks to act in a Malayalam movie, on which I'll decide later. My son is acting in a movie for the first time. As a father I am feeling the same tension when I took him to a school for the first time when he was taking part in a competition for the first time", Vikram said.
"Producer Mukesh Mehta should be credited for Dhruv's role in Adithya Varma. He is the one who decided to make him the hero after watching Dhruv's Dubsmash videos. I was tensed whether he can handle such a heavy role at a young age. But he has done well. I was with him all the way. I am really hopeful of the movie", Vikram added.
Dhruv was all grateful for his father Vikram. "I am here because of my father. Like everyone else, I am also a fan of the actor-Chiyan Vikram. I'll never misuse my father's name. I hope everybody likes this movie", Dhruv said.
Adithya Varma is the remake of Telugu hit movie 'Arjun Reddy' starring Vijay Deverakonda. The movie is set to release on November 8, 2019.