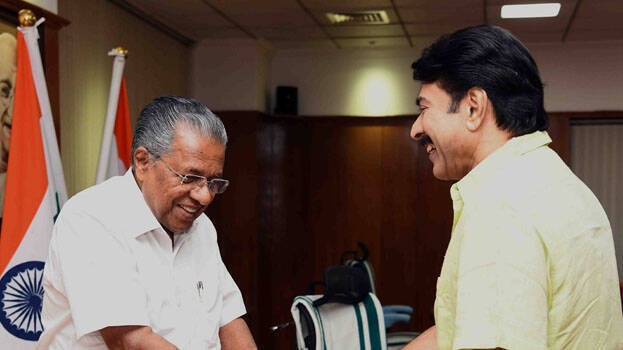 The picture shared by Chief Minister Pinarayi Vijayan has gone viral in the social media. The chief minister shared the picture of actor Mammootty who met him at his office, in his official Facebook page. Mammootty is seen shaking hands with the actor.
Mammootty will play a chief minister in 'One' directed by Santhosh Vishwanath. The actor reached the chief minister's office in between the shooting of the film. He plays Kadakkal Chandran in the film. Mammootty had played Andhra Chief Minister Y S Rajashekara Reddy in 'Yatra' last year.
"Shri Mammootty met me at my office. He found time in between his busy film schedule. It was a cordial visit"- the chief minister wrote under the picture. The social media accepted the smile seen in both their faces.