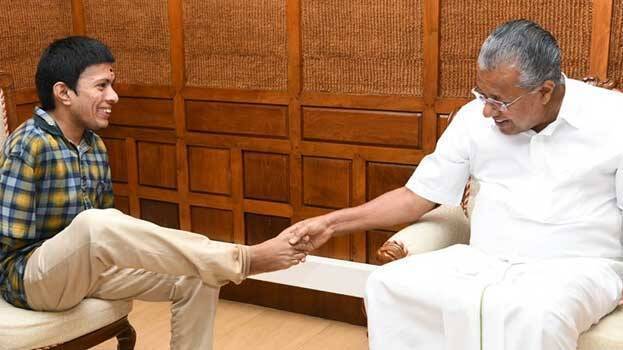 THIRUVANANTHAPURAM: Chief Minister Pinarayi Vijayan in a Facebook post introduced a youth with no limbs when he came to contribute to the chief minister's relief fund on his birthday.
The chief minister introduced the youth Pranav saying that he witnessed a heart touching experience when reached at the office of the assembly in the morning. A native of Alathur, he is also a painter. He handed over the money to the chief minister's relief fund which he got from reality shows.
Pranav told the chief minister that his limbs in life are both his father Balasubramanyam and his mother Swarnakumari. He conveyed this to the chief minister in the presence of his parents. K D Prasenan also accompanied them.
Pranav said that he hundred percent believes that the government is with the differently abled. Accepting the relief, the chief minister said Pranav's contribution is of great value. Pranav, who graduated from Chittoor Govt College, is going for PSC coaching now. He left happily after taking a selfie with the chief minister using his leg.