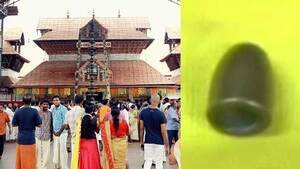 THRISSUR: A 9mm pistol bullet was found inside a hundi of Guruvayoor Temple. The Guruvayoor Temple police have registered a case and initiated investigation. In the morning, the offerings inside two hundis in front of the 'Naalambalam' (surrounding walls of the sanctum sanctorum) were counted and a bullet came to the notice of the Devaswom employees. As the offerings of both the boxes were taken out together, it's not clear which box had the bullet inside it.
To achieve clarity in the matter, the CCTV footage was checked which was followed with a complaint to the temple police. The offerings inside hundis are counted once every month. So, the entire CCTV footage of last month need to be checked.
Guruvayoor Temple is a high security zone and devotees are granted entry only after police examination. There are metal detectors at every opening. Despite all this, finding a bullet inside the temple is deemed as a massive security lapse.