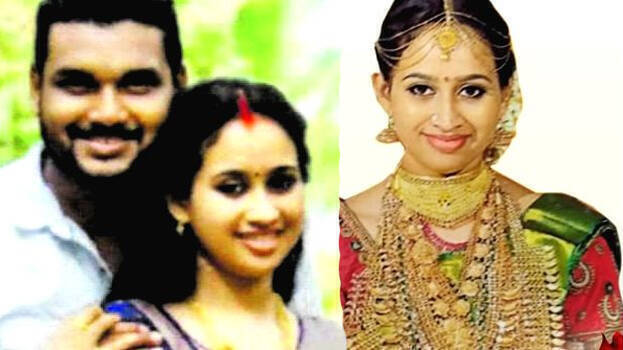 KUNDARA: In the shocking Kundara murder case, the police have recorded the arrest of the man, who allegedly reached his wife's house and strangled her to death on her bed. The accused, identified as Kollam College Junction Devipriya MRA 12 B resident Vysakh, surrendered before the police the other day. He was produced in the court on Wednesday.

The dead woman was Mulavana Charuvila Padinjattathil house resident Mohanan's daughter Krithi (26).

The version of the police and Krithi's parents is:

"Krithi had been in her parent's house for the past two months. Vysak reached the house at around 7:30 pm on Monday. The couple had remained in her bed room since then. At around 10:45 pm, when Krithi's mother Bindu went to call them for dinner, she saw her daughter lying unconscious on bed.
Vysakh came out, saying that she collapsed while she was talking with him. He said he would take her to hospital but scooted off when the family members were in panic situation. The parents soon informed Kundara police and relatives. Though she was rushed to hospital thereafter, her life could not be saved. The couple who were in love had married just nine months ago. Krithi has a three-year-old daughter in her first marriage but for Vysakh it is the first marriage.

Months ago Vysakh ran into debts and took four lakh from Krithi's account and six lakh from her mother's account.

Besides this, he mortgaged her parent's property for Rs 15 lakh. The situation went from bad to worse when Vysakh asked her parents to pledge their house and property and take loan.

He quarrelled with Krithi and her parents over this and left the house on October 14 to return only on last Monday."
According to Krithi's relatives, Vysakh used to inflict mental and physical torture on her in the name of properties and money. He even used to threaten her at knife-point.

Soon after coming to know about the murder, Kundara police searched for him at his Kollam and Paravur houses, seized his passport and issued alerts at airports and railway stations. As the police started tightening the noose around him, he surrendered at Kundara station at around 3 pm on Tuesday.