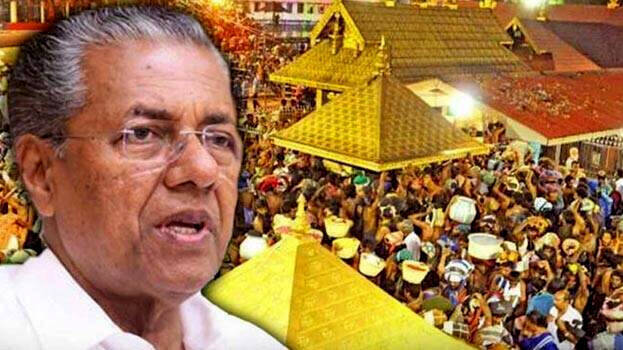 THIRUVANANTHAPURAM: The government has decided to stop women from entering Sabarimala for the time being. Though there is no stay for the entry of women, the government is planning to prevent women from entering due to the complexity of the judgment. The government will seek legal advice from the Supreme Court lawyer. Further proceedings will be discussed in the state secretariat convened today. The government is confused after the apex referred the Sabarimala issue to a higher bench and not imposing a stay on the verdict permitting women to enter the holy shrine. The chief minister is waiting for the legal advice on the verdict. The government is trying to prevent entry of women and avoid law and order problems until the final verdict is obtained.
Meantime, the Devaswom Board will decide after further consultation with legal experts on the further steps that should be taken in the Supreme Court ruling on the entry of women in Sabarimala. Though the first meeting of the new board will be convened today, the final decision will be clarified only after consulting with lawyers who have argued with the Supreme Court in the Sabarimala case.
The Supreme Court postponed the pleas to be re-examined on women entry. The Supreme Court decided by a majority verdict yesterday to set up a seven-member bench to examine the seven constitutional issues relating to freedom of religion and fundamental rights and adjourn the Sabarimala review and writ petitions until answers are obtained. Meanwhile, the verdict on September 28, 2018 allowing women to enter Sabarimala, has not been stayed.
The higher bench will be formed by the next Chief Justice S A Bobde. The constitutional bench headed by Chief Justice Ranjan Gogoi raised seven questions on constitutional provisions and religions, including the extent to which the court can interfere in faith and consider the plea of an outsider in religious matters. In addition to these seven questions, the judgment also stated that section 3 (b) of the Hindu Pilgrimage Act, 1965, which prohibits women from entering the temples of Kerala during the menstrual period, applies to Sabarimala.