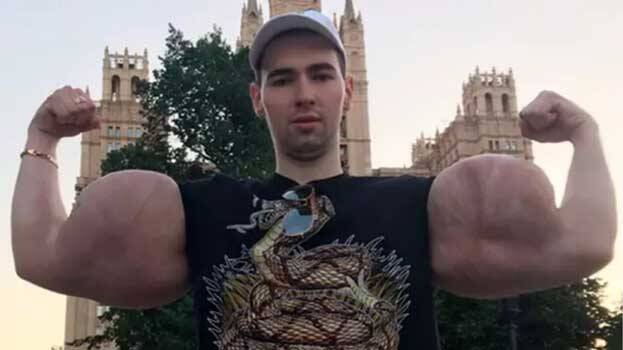 MOSCOW: A 23-year-old Russian bodybuilder who had 24-inch oil-injected biceps has had surgery to get them removed. Kirill Tereshin, the bodybuilder, was told by doctors that he will face death or loss of his arms if he cannot get rid of the fake muscles filled with petroleum jelly.
Kirill became famous worldwide for his fake arms which were similar to the cartoon character 'Popeye'. The doctors warned him that the fake muscles would give Kirill serious health problems. Alana Mamaeva, a campaigner for victims of botched plastic surgery, helped Tereshin to opt for and even helped raise funds for the surgery.
According to surgeon Dmitry Melnikov, Kirill had injected three litres of a cheap Vaseline-like jelly. "It saturated the muscle tissues, blocked blood flow. As a result, the tissue dies and gets replaced with a scar which is as tough as a tree. We have removed all this. He had a high fever, strong pain, and weakness," Dr. Melnikov said.
The doctor added that petroleum jelly affects the whole body of a person, especially the kidneys and it is not designed for injection but only external application.