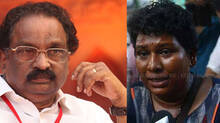 KOTTAYAM: It was just a few days ago that woman activist Bindu Ammini, who made a bid along with Bhumatha Brigade leader Trupti Desai and her team to Sabarimala, was attacked with pepper spray. But Bindu's visit on the previous day to Minister A K Balan's office had triggered a controversy. It was alleged that she had gone to visit him to discuss matters related to her Sabarimala visit.

Bindu has now demanded that minister should reveal why she had gone to meet him

"Minister Balan should clarify why I went to meet him. I went to his office to hand over a memorandum related to the harassment of students by a teacher in Ettumanoor model residential school.

The minister should be ready to speak the truth in this matter to clear the doubts in the mind of people. The minister should avoid doublespeak," she said.
Bindu told this to media while she was in Kottayam to express her protest against Ettumanoor school issue and discuss future course of action in that matter.
She reiterated that she will reach Sabarimala on January 2.