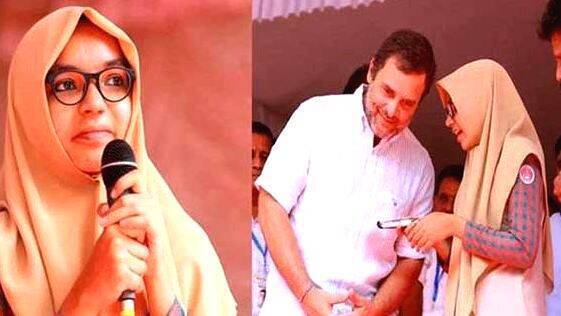 WAYANAD: "Is anyone willing to translate my speech?", senior Congress leader Rahul Gandhi asked, before his speech at the inaugural function of a science lab in a school in his parliamentary constituency Wayanad on Thursday.

He wanted someone from the student audience to take up the job of translating his English speech to Malayalam.
At this time his usual translator and party leader KC Venugopal, sat smiling in a chair on the dais.

Safa Sebin, a Class 12 student of the school, rose to the occasion and she walked confidentially onto the stage amid loud cheers and applause.

Safa greeted Rahul Gandhi with a namaste. The Congress leader returned a warm handshake. He handed a mic to the student and began his speech.

Rahul spoke at length about the essence of science and the importance of asking questions in science with used analogies to explain it.

Safa Sebin didn't falter at any point of her translation. The 17-year-old was actually the hero of the day. Amid thunderous applauds, she was again congratulated by Rahul Gandhi.