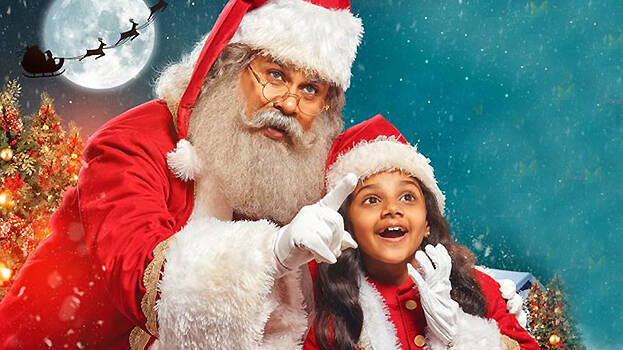 My Santa, directed by 'Ordinary' fame Sugeeth, is Mollywood's ideal Christmas gift for movie buffs, especially kids, this year. The story is all about the bonhomie between a small girl studying in Second standard and Santa Claus, synonymous with Christmas season. Sugeeth touchingly portrays the story of Aisa, who lives in expectation to meet Santa Claus one day.

The film is made to suit the taste of children, who would cherish watching it with their parents during Christmas holidays. The director has presented a fantasy world for kids in the first half while the second part will push the elder audience into a world of emotions.

In the film the on-screen chemistry between Dileep as Santa and Baby Manasi as Aisa is wonderful. Dileep perfectly fits into Santa's shoes. The modulation he has given to his voice is also notable.

Anna, Anusree and Sai Kumar have done exceptionally well their roles. Carol songs in the film, too, creates the right mood of merry Xmas.