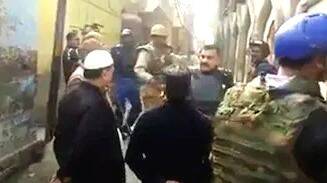 LUCKNOW: A senior police officer on duty at a communally sensitive town of Meerut in west Uttar Pradesh was videoed when he was combing a lane dominated by Muslim community as part of the crackdown on anti-Citizens Rights Act rioters.

The incident reportedly happened on Friday after Namaz.

In a mobile phone video in the possession of NDTV, Akhilesh Narayan Singh, who serves as Superintendent of Police(City) of Meerut, virtually the second in command in the district, can be seen walking in the narrow lane wearing riot gear. Some other policemen, also in riot gear, accompany him.

Mr Singh stops at a place where a few Muslim men wearing skull caps are standing. "Where will you go? I will set this lane right now that you have given me this chance. (Kahan jaoge? Is gali ko main theek karoonga)," the officer tells two men standing nearby, in the video clip.
"We were just offering our Namaz," one of them replies. "That's fine. But these black and blue badges you people are wearing, tell them to go to Pakistan. (Nahin woh to theek hai jo kaali patti aur neeli patti baandh rahe ho unko keh do Pakistan chale jaayein)," Singh can be seen telling the men.

"Desh main agar nahin rehne ka man hai to chale jao bhaiya. Aaoge yahan aur haoge kahin aur ka. (If you do not want to live here then go away. You come here but you sing praises about somewhere else?)," the police officer says.

The three Muslim men, surrounded by a posse of policemen, only mutter this: "You are right".

It is not clear what circumstances led to the communal rant by the officer. The Indian Express quoted him as saying, "The context is that anti-social elements were making pro Pakistan statements. We had come here to see who all were making pro-Pakistan statements."

Meerut Police also say they faced near fatal stone-throwing and violence from protestors last Friday. Among six dead, most of their bodies had bullet injuries.

Meanwhile, Meerut Police have not taken the responsibility for firing and have released videos from a different location showing masked protestors firing from illegal weapons at cops.