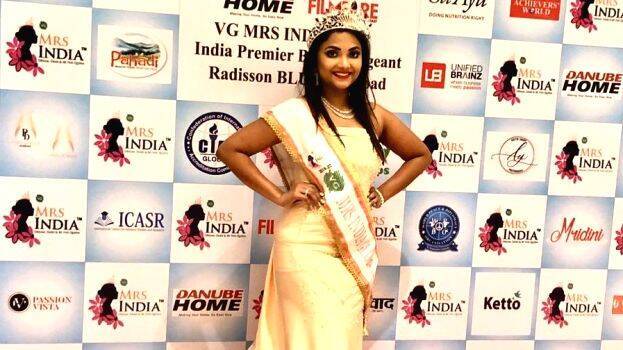 NEW DELHI: Angella Melel from Dubai, UAE has been crowned as VISIONARA GLOBAL MRS INDIA Global for the year 2019-20.She is a Civil Engineer in Dubai and wife of Robin Kuttikattil, Mazhukeer, Alappuzha dist. She is the daughter of Roy Melel, a former Principal St. Thomas college, Ranni. She was awarded the title of "Mrs lndia Global 2019" in the VG Mrs India Contest held in Delhi on Nov 30, 2019. She won two other sub titles "Mrs lndia Kerala" and "Mrs India beautiful eyes".

It was after strenuous auditions and training sessions, the winners of VG MRS INDIA® - A Premier Beauty Pageant for the year 2019-20 were announced.

Visionara Global is one of the leading organizations which is conducting Beauty Pageants which are popular all over the country. VISIONARA GLOBAL MRS INDIA® Beauty Pageant is one of them. There were five categories MRS INDIA, MRS INDIA Finesse, MRS INDIA Gracious, MRS INDIA Global & MRS INDIA Overseas.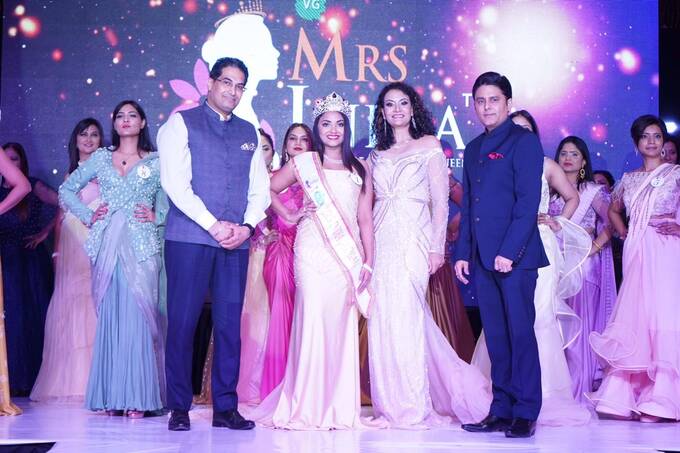 The competition was held in Delhi NCR at Radisson BLU, Faridabad on November 30 in the glittering grand finale in which there were 32 finalists. Angella also won VG Mrs Kerala and Mrs Spectacular Eyes Titles as well.
Eminent personalities from around the globe came to judge their talent and skills in the grand finale. The Jury panel consisted of Former Miss World Diana Hayden. Other famous personalities in the jury panel were Mr Rizwan Sajan, Founder & Chairman Danube Group, UAE, Ms. Arushi Pokhriyal, Entrepreneur, Film Producer & Poet, Dr Sundeep Kochar, Celebrity Astrologer & Life Coach, Harpreet Vohra, GM Radisson BLU, Faridabad, Dr GD Singh, Founder & Chairman for Asian – African Chamber of Commerce & Industry (AACCI), Monika, Director VLCC & Harish Chandra, Editor CSR Times & Achievers' World.

All the winners recently came together for the training and grooming sessions and attended professional photo-shoot and video shoot as well.

Binita Shrivastava, Founder & National Director – VG MRS INDIA, said, "This pageant is a commendable effort to bring together the people of different cultures and groups. It gives every deserving married woman a chance to become a celebrity. Some of them are also contributing to the welfare of society."

The Official Show Director & Choreographer of Visionara Global MRS INDIA® is World Famous Pageant Coach - Pooja Bimrah. The contestants of VG MRS INDIA® Beauty Pageant were provided with special training sessions by International Pageant Coach Pooja Bimrah and her company The Fashion Advocate India. The special grooming sessions were conducted by Pooja Bimrah Academy .

"As charity and uplift of society are always the focus of beauty pageants, crowd funding would play a phenomenal role in this. Thus VG MRS INDIA® partnered with Ketto for this charitable cause and the contestants raised more than Rupees Ten Lacs only and donated to Child Help Foundation (CHF)," according to the organizers.