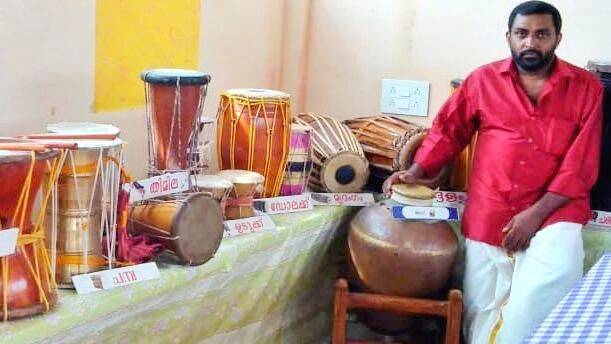 KANNUR: He has got the name of one of the great music composer of all times- Baburaj, who has composed umpteen melody songs for Malayalam films. But this Baburaj of Chakkarakkallu Muzhappala has not even hummed a song tune till now though he is 45.

Baburaj, a vegetable vendor, also doesn't have special likeness for music but his house 'Love Shore' is a treasure chest of musical instruments.

From hundred types of Chenda to African instrument called Vambukka, he has altogether got more than 250 instruments.

They include Mizhavu, Santhoor, Dolak, Mridangam, Maddhalam, Sitar, Piano, Sarangi, Jazz, Thakil, Thudi, Kombu, Kuzhal and more.

He has spent more than Rs 25 lakh for buying and maintaining instruments. He is not reluctant to travel any distance or spend any amount of money for instruments.

He shelled Rs 30,000 to own a Mizhavu. It cost him Rs 60,000 for the electronic guitar he bought recently. Eventually he also learnt to make chendas.
There is a story behind his craze for musical instruments. Once while he was in the tenth standard, there was a volleyball match happening near his house. An ardent volleyball fan, he asked a chenda player near his house to lent out his chenda so that he could play in between the match. The man ridiculed him, asking him to take a tin and go drumming around. It was that incident that made him a lover of musical instruments.

Many people from faraway places reach here to see his collection. He also held an exhibition of instruments recently.

Shahina is Baburaj's wife. Students Snehatheertha and Snehaja are their daughters.