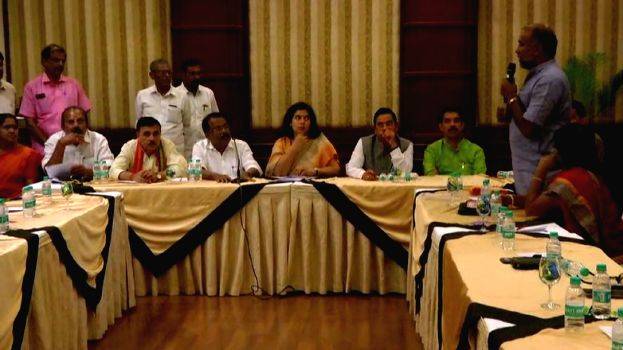 THIRUVANANTHAPURAM: BJP Central team has assessed that an undeclared emergency exist at Sabarimala. They submitted a letter to the governor regarding this. BJP leaders have clarified that the governor promised to seek a report from the government on this issue. The central team also said that BJP will not allow anyone to politicize the issue. They said that the request sent to governor also seeks to keep away the concerns of devotees.
Meantime, Nair Service Society (NSS) general secretary G Sukumaran Nair said that the government is trying to divide people caste-wise. He also added that the government is putting the blame on savarna people (forward caste) for not being able to implement women entry at Sabarimala.
"When you divide people as 'savarna' and 'avarna', it will bring up caste-based division in the society. The government is trying to settle the Sabarimala issue in this manner. This is a politicized move. A democratic government should not take such a stand", said Sukumaran Nair.
"Renaissance movements always have been helpful to eradicate untouchability and casteism in our state. However, women entry is related to rituals and customs. The government should have realised this and they should have tried to convince the court about this. However, they are attempting to implement atheism and this meeting of renaissance groups is a part of it", he said.
Meantime, leader of Opposition Ramesh Chennithala harshly criticised the meeting called by the Chief Minister. "CPM's attempt to claim renaissance is just like BJP's attempt to claim the responsibility of freedom movement by building a statue of Sardar Vallabhai Patel. This woman wall is intened to create a communal clash among people", alleged Chennithala.