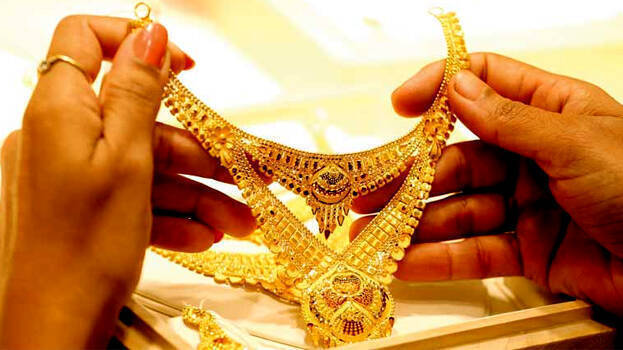 KOCHI: Oil and gold prices continued surging on Monday as escalating tensions in the Middle East fanned worries about disruption to global oil supplies, sending investors scurrying to safer investments. Brent crude oil soared past 70 dollars a barrel, rising by more than 2 per cent on Monday, while West Texas Intermediate crude rose by 1.8 per cent to 64.21 dollars.
Gold prices on Monday soared by Rs 520 to Rs 30,200 per 8 gram, which is unprecedented in Kerala.
The BSE Sensex crashed nearly 788 points, its worst session in about six months, as escalating US-Iran tensions sent crude oil prices soaring and also made investors shun equities and rush to safe haven assets.
At the closing bell, the 30-share Sensex was at 40,676.63, down 1.90 per cent or 787.98 points -- the biggest single-day drop since July 8.
After opening the session on a subdued note, the BSE gauge broadened losses and hit an intra-day low of 40,613.96.
Similarly, the 50-scrip NSE Nifty closed at 11,993.05, falling by 1.91 per cent or 233.60 points.
Petrol prices on Monday were hiked by 15 paisa a litre and diesel rates were increased by 17 paisa as global oil prices hit $70 mark in the wake of escalating US-Iran tensions fanning fresh fears of conflict in the crude-rich Middle East.
The retail pump prices of petrol in Thiruvananthapuram rose to Rs 79.09 per litre - the highest since November 2018, while those of diesel climbed to Rs 73.80, according to a price notification of state-owned fuel retailers.
Along with soaring crude prices, the negative impact of weakening Indian currency is also weighing on equities.
The Indian rupee dropped 13 paise to close at 71.93 against the US dollar on Monday amid rise in crude benchmark Brent Futures, quoted last at USD 69.64 per barrel -- an increase of 1.37 per cent in price.
Global markets too remained underpressure after US President Donald Trump warned Iran of major retaliation if Tehran carries out any attack against America to avenge the killing of top military commander Qasem Soleimani and hinted at striking its cultural sites.