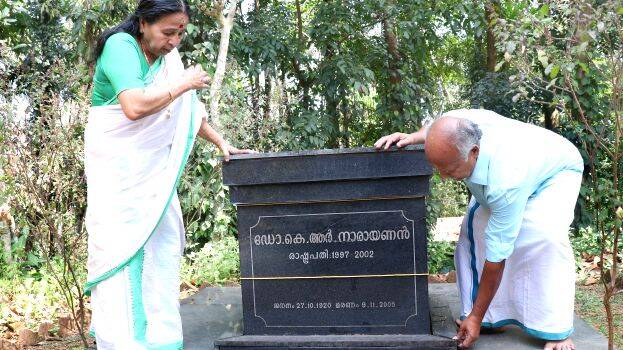 KOTTAYAM: If someone unties the tightly wrapped around plastic rope of the Smriti mandapam (memorial altar) of former president K R Narayanan, its granite slabs would come off.

This is the pitiable state of the Smriti mandapam of K R Narayanan at a time when the country is celebrating his birth centenary. The granite slabs on which his name and birth date are imprinted may fall off if the rope is removed. Granite slabs paved around the mandapam to reinforce the mandapam have also become loose. Though the finance minister informed in the assembly three months ago that the mandapam will be protected, not even a single government official has visited the place till date.

The mandapam was built 15 years ago adjacent to Uzhavoor Kocheri family house. It was his wish to be laid to rest at the final resting place of his father and mother.

The ash from his crematory in Delhi was collected and kept in the smriti andapam built near the tombs of his father Raman Vaidhyar and mother Pappiamma.

The mandapam built by the Public Works department is being exposed to sun and rain. His father's brother K R Ayyappan's daughter K Seetha Lakshmi and her husband P N Vasukuttan are staying near this place.

They clean the place daily and light lamp but they say that they are not in financial position to renovate the mandapam.