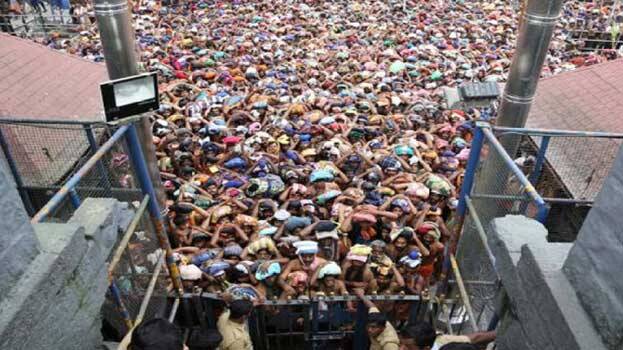 SABARIMALA: The Sabarimala temple on Saturday witnessed ruckus as the police failed in controlling a huge crowd of devotees that gathered to catch a glimpse of the deity hours after the Makaravilakku festival. Several barricades set up by the police were destroyed after the pilgrims spent hours in the queue in order to enter the temple premise.
It is learnt that the police and pilgrims got involved in various clashes as the crowd became frustrated with the long queues that failed to make any movement forward. Following this, the police were forced to block the way to the temple at Pamba and Marakkoottam. Contrary to previous years, a large number of pilgrims had gathered to visit the deity after the Makaravilakku festival.
Sources said that the crisis occurred as the number of security personnel in the temple premises was reduced considerably soon after Makaravilakku. It is learnt that there is only 500 police personnel at the temple premises to control the crowd and most of them have lack of experience in handling the crowd.