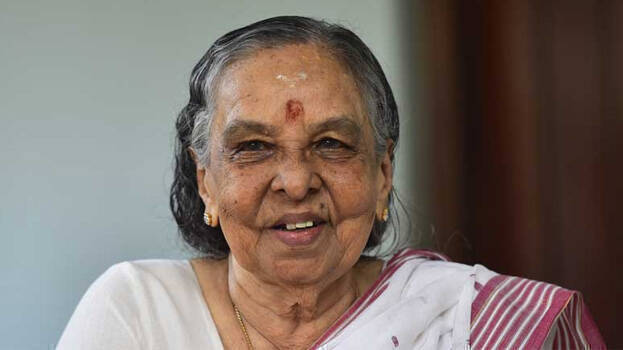 KOZHIKODE: Former minister and senior congress leader M Kamalam died here Thursday morning at 6 am at her residence in Kozhikode. She was 92. She will be cremated at the crematorium in Mavoor road at 5 pm.

Kamalam was one of the most prominent women leaders of the congress party. She had served as the cooperative minister during the tenure of Karunakaran from 1982-1987. She had a close relationship with Indira Gandhi. She had held the posts of Women's Commission chairperson, KPCC vice-president, general secretary, AICC member etc and has been in the public domain for over seven decades. She was one of the best organizers and leader of the party.

Kamalam entered politics unexpectedly in 1946. There was reservation for women in the third ward of Kozhikode Corporation. The leaders came home and took her on horse cart. She was elected councilor then.

There was a steady growth in her political and public life later. The best proof was that when K C Abraham became KPCC president she was made general secretary. C K Govindan Nair and Kutty Maluamma were her political gurus.

As an organizer, one of Kamalam's most notable activities was the formation of 200 women's co-operative societies and committees in Kannur in 1954. It was the party who entrusted the responsibility to her. She was chosen as the convenor of women's committee in Kerala. She had served jail term during emergency in 1975.

In the meantime, organization Congress became Janata Party. She contested as a candidate of the Janata party in the Lok Sabha elections held but was defeated. She then left the party and joined Janata (Gopalan) and when this merged to the congress, she returned to the parent party.

In 1980 she contested to the assembly from Kozhikode and was defeated. She later contested polls from Kalpetta in 1982 and was inducted to the Karunakaran cabinet as the cooperative minister.
Her husband late Mambetta Samikutty was interested in politics, literature and Sanskrit. She leaves behind her children M Yatheendra Das, Padmaja Charudathan, M Murali, M Rajagopal and M Vijayakrishnan.