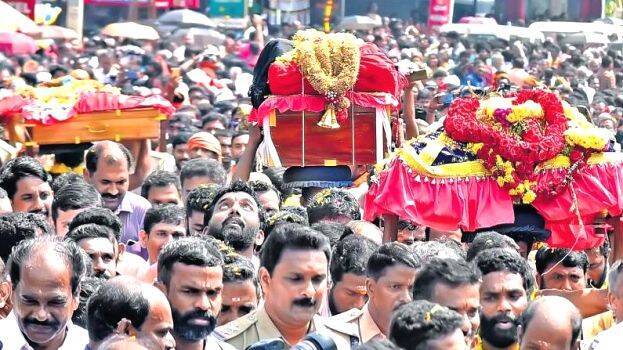 THIRUVANANTHAPURAM: Devaswom Board Minister Kadakampally Surendran has clarified the government's stand on the Supreme Court observation regarding the custody of Thiruvabharanam (ornaments) of Sabarimala deity- Lord Ayyapa.

The minister said if the Supreme Court directs to keep custody of Thiruvabharanam, the government would be ready for it.

"What is important is the safety of the ornaments. If the Supreme Court or the Pandalam palace has any misgivings regarding the security of the ornaments, the government will give complete security. A final decision will be taken after holding discussion with the Devaswom board.
Earlier in the day, the Supreme Court had questioned the right of the Padalam palace to keep Thiruvabharanam in its custody.

It asked the government to submit, within Friday, a report on whether the Thiruvabharanam is safe in Pandalam temple.

The court said the ornaments were offered to Lord Ayyappa and the Pandalam royal family doesn't have any stake in it.
"The government should clarify whether the ownership of the ornaments belongs to the deity or the Royal palace," Justice NV Ramana said.
The court even asked the government whether it could take the custody of Thiruvabharanam as there is some row over the ornaments within the palace.

And, the government orally informed the court that it had no issues in keeping the ornaments in its safe custody.

The court, but, asked the government why the instruction to hand over the ornaments to the temple or appoint a special officer for safe-keeping the ornaments was not implemented.

Two groups in the Pandalam royal family had staked their claim to the custody of the ornaments and this came under criticism from the court.
Pandalam royal family member Rama Verma had approached the Supreme Court with the complaint that his opinions were not being considered by temple administrative committee.

"The current president and secretary of palace action committee are not coming for any discussion with Royal family members. Virtually, the Thiruvabharam is in their custody," Varma had said in the complaint.