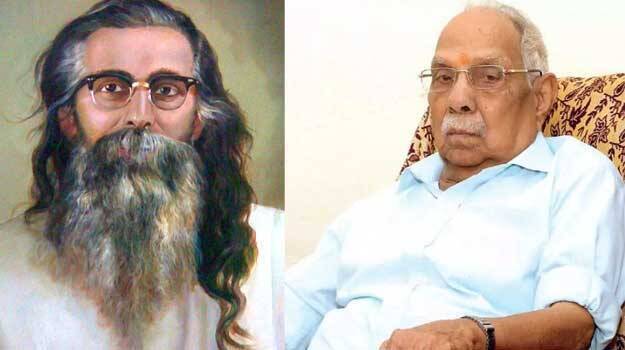 THIRUVANANTHAPURAM: The death of P Parameswaran alias Parameswarji, the first organiser and philosopher of Sangh Parivar movements in Kerala, is an irreparable loss to the whole nation. P Parmeswaran's contribution to the growth of RSS in Kerala is huge. He effectively utilized the visions of Swami Vivekananda. Following that, the CPM in the 1990s evaluated that there are many good things in Swami Vivekananda. Many articles were published in party newspaper praising some of the good sides of the visions of Vivekananda. In other words, it was the victory of P Parameswaran.
He was born to Parameswarn Ilayathu and Savithri Antharjanam in 1927 at Thamarasseril Illam near Cherthala in Alappuzha. He grew up in an ashram atmosphere. From early childhood, he had a great inclination towards the study of Hinduism. He was intimately connected with most of the Hindu social and cultural organizations. His father who initiated him into the world of letters taught him Siddharoopam and Amarakosham. Hiss school education was at Thannermukkam and Muhamma. He has a history of defeating Vayalar Rama Varma and grabbing first position in poetry reciting. Vayalar was his colleague and intimate friend. After school education, he joined for fellow of arts in S B College, Changanassery. He graduated from University College, Thiruvananthapuram with distinction in BA (Hons) in History. It was during this time he got attracted to RSS.
Loved Gandhi and finally into footsteps of Gowalkar
It was a time when India was moving towards independence. Parameswaran who was young was very disturbed by the news that the country is going to be divided. With the assassination of Mahatmaji, RSS was banned in the country. The police arrested Parameswaran and other leaders. Following this, his education got disrupted for a year, but later passed with a distinction. Though Parameswarn totally agreed the simple life of Gandhiji, his philosophical thinking and the concept of gramaswaraj, but an incident got him attached to RSS theoretician Madhav Sadashiv Gowalkar. It was partition of the country. He later accepted him as his mentor.