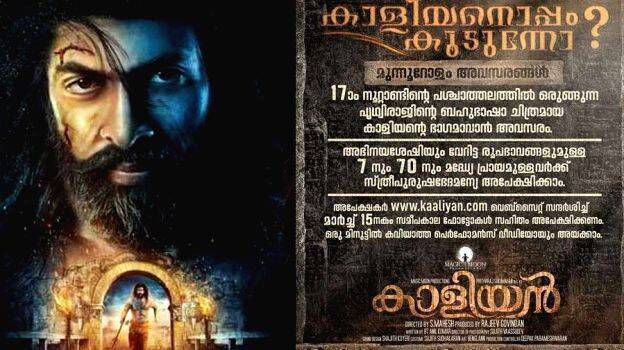 Rush! You can apply for a chance to act in the big budget Malayalam film Kaaliyan to be directed by newbie S Mahesh with Prithviraj in the lead role.

In the film set against the backdrop of 17th century, chances are awaiting for people with acting skill and physical feature with a difference. The age limit is 7 to 70.

This was announced by actor Prithviraj on his Facebook page.

The applicants can log on to www.kaaliyan.com and apply before March 15 with their recent photos. They can also send a video performance that doesn't exceed one minute.

The casting call message has appeared in Malayalam, English and Tamil. Rajeev Govindan is producing the film under the banner Magic Moons.

The cinematography is by Sujith Vasudevan. The script is being written by B T Anil Kumar. According to the film makers, the shoot of the film is likely to start this year itself. The pre-production work of the film is currently going on in Kochi.