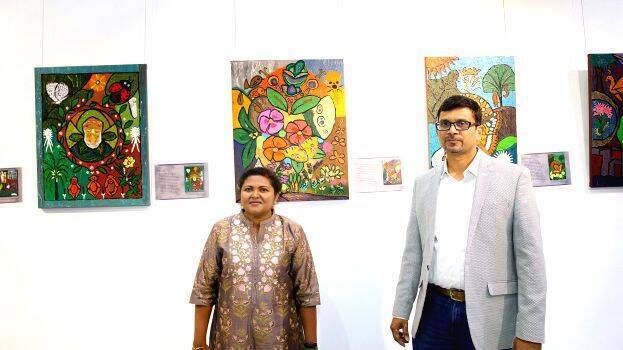 "Existential - A Fine art and Photography Exhibition" of "Butterflies" opened in Cartoon Art Gallery at Quoz, Dubai on 13th February. The exhibition showcases selected works by IB Radhika Rani, eminent artist from India and UAE-based nature photographer Manu Reghurajan.

Retd Lt Colonel of Dubai Police and Past President of Toastmaster International, Mr.Mohammed Murad inaugurated the exhibition. Mrs. Sultana Kasim, prominent UAE artist was Guest of honour at the event. The show was opened by watering a Dalia plant by Mr. Murad showcasing the necessity for the protection of environment.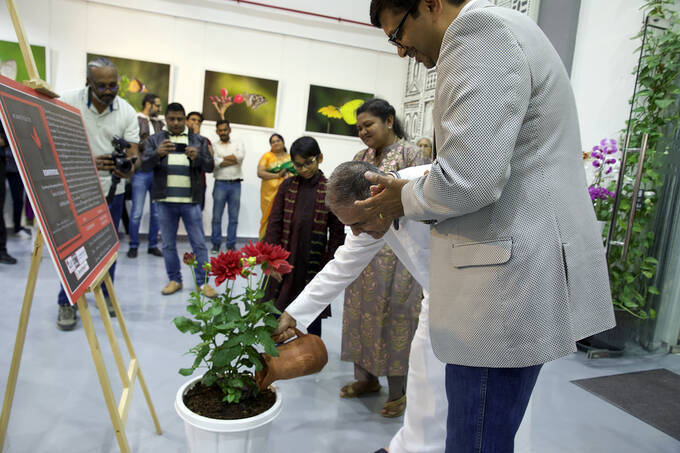 The exhibition is all about butterflies. "Butterflies impart a sense of freedom in us as they unfold and emerge from its chrysalis before flying away into liberty. The metamorphosis that it undergoes in its short life span depicts the toughness of life's existence in nature itself. Is it possible for any form of life to exist by its own? Never, it needs support from the environment and the ecosystem to complete its life cycle. The evolution of butterfly has been simultaneous to flowering plants ever since the cretaceous period, thus signifies the importance of 'existential thoughts'. Human interference has become a threat to Planet earth, adversely effecting its eco balance which needs urgent attention before it is too late. It is time for us to rethink and undo our wrong imprints on this blue marble and remind ourselves that life is all about coexistence," say the organisers..

'Existential' is an exhibition elucidating the journey of Painter 'Radhika' and photographer 'Manu' based on the theme 'Butterflies'. IB Radhika Rani Exhibits 15 paintings, Acrylic on Canvas, showing 15 butterflies from her home Garden in Kerala. Along with her paintings showing the butterflies in their habitat, she also exhibits her poems. It is her ninth Solo Exhibition and the first in Dubai.

Manu Reghurajan, who has won many awards and International distinctions for his nature images from UAE, is exhibiting 16 photos of butterflies both from India and UAE.

Existential is open till 17th Feb from 12 to 8pm.