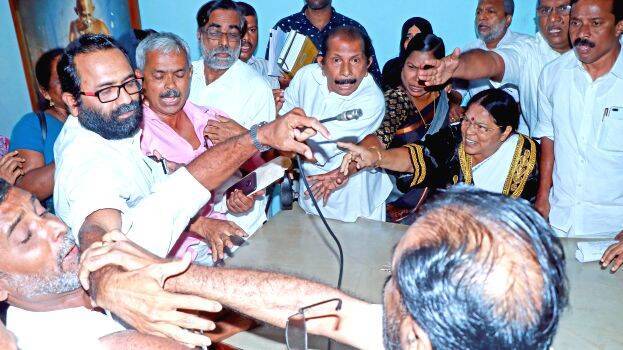 KANNUR: A dispute between the members of the ruling party and the opposition in Kannur Corporation came to blows are five councillors including the mayor were left injured. Mayor Suma Balakrishnan, councillors Roja, Vineetha, Kamalakshi and Pramod were injured. UDF has called for a hartal till noon on Thursday as a protest for the assault against the mayor.
The problems started when the LDF councillors showed up at the mayor's chamber just before the council meeting with a protest seeking a solution to the employee strike. The employee strike was staged with a demand to stop on organization activities at the office compound and against the deputy mayor who allegedly forced the employees to do unlawful things.
The mayor said the issue can be discussed after the council meeting but the LDF members blocked her. Deputy mayor PK Ragesh, ruling members TO Mohanan, C Sameer and C Seenath questioned the actions of the opposition. The opposition members didn't allow the mayor to leave even after the bell for the meeting rang. This ended in a tussle between the members. The LDF council member shoved the mayor who stood up for the chair. Following this, the mayor managed to reach the council with the help of deputy mayor and other councillors. The opposition's protest followed in the hall as well. The Congress and IUML members tried to defend, and it drifted to a brawl. The police was present here at the time, but couldn't control the fight.
Mayor Suma Balakrishnan has lodged a complaint with the police against LDF councillor K Pramod, accusing him of a physical assault against her. The LDF councillors have also filed complaints alleging assault on their women councillors by the UDF councillors including the deputy mayor.