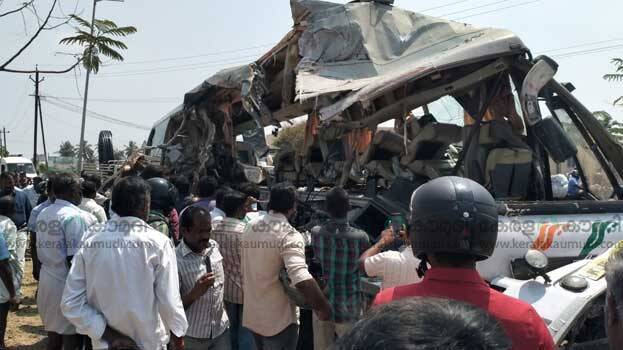 COIMBATORE: A girl from Kerala recollected the moments of horror of the accident that happened after a KSRTC bus and a container lorry collided at Avinashi in Tamil Nadu. All in the bus were in deep sleep at the time of the accident and it is through sheer luck I escaped and sustained only minor injuries, said Sreelakshmi.
Sreelakshmi who was travelling alone from Bengaluru to Thrissur sat with the conductor of the bus who died in the accident. After some time, I fell asleep and I am not sure when the conductor got up and went. I came to know about this death through news, she said.
'I don't remember anything in the impact of the accident. I just remember hearing a big noise of the collision. And then the bodies scattered all over. Within a few seconds, the locals rushed to the spot for rescue operations. The injured were taken to the hospital in an ambulance. Those who sustained minor injuries were given first aid at the spot itself,' said Sreelakshmi.
She said that doesn't know about the other passengers of the bus. Those who were sitting on the right side were the mostly affected. Sreelakshmi after her treatment went straight to her friend's house in Tirupur. She said that she will go back to her house after her parents reach here.
Twenty people had lost their lives in the accident. 25 sustained serious injuries and of the dead, reports say 19 were Keralites. Five women were among the dead. 42 of the 48 passengers were Keralites. KSRTC driver cum conductors T D Girish and Baiju died on the spot itself.
Passengers Igni Raphael, Kiran Kumar, Krish, Jordan, Rosli, Vinod, Christopher, Raheem, Naveen Baby have been identified and were natives of Palakkad, Thrissur and Ernakulam.
Details of the passengers
1) Aishwarya- Ernakulam 2) Gopika T G –Ernakulam 3) Karishma K–Ernakulam 4) Praveen M V – Ernakulam 5) Naseef Muhammed-Thrissur 6) MC Mathew- Ernakulam 7) Santhosh Kumar K-Palakkad 8) Thankachan K A- Ernakulam 9) Ragesh-Palakkad 10) R Devi Durga- Ernakulam 11) Jophy Paul C-Thrissur 12) Alan Sunny-Thrissur 13) Pratheesh Kumar-Palakkad 14) Sanoop- Ernakulam 15)Rosili-Thrissur 16) Sona Sunny-Thrissur 17)Kiran Kumar M S –Thrissur 18) Manasi Manikandan- Ernakulam 19) Joandin P Xavier- Ernakulam 20) Anu Mathai- Ernakulam 21)Haneesh-Thrissur 22)Jismon Shaju- Ernakulam 23) Madhusoodana Varma-Thrissur 24) Ann Mary- Ernakulam 25)Anu K V-Thrissur 26) Sivakumar-Palakkad 27) Binsy Igni- Ernakulam 28) Igni Raphael- Igni 29) Binu Baiju- Igni 30) Yesudas K D-Thrissur 31) Jijesh Mohandas-Thrissur 32)Sivashankar P- Ernakulam 33) Jemin George Jose- Ernakulam 34) Josekutty Jose- Ernakulam 35) Ajay Santhosh –Thrissur 36) Thomson Davis-Thrissur 37) Ramachandran-Thrissur 38) Mariappan-Thrissur 39) Ignatious Thomas-Thrissur 40) Rosy Sait- Ernakulam 41) Alan Charles- Ernakulam 42)Vinod-Thrissur 43) S A Malawad- Ernakulam 44) Nibin Baby- Ernakulam 45) Demoncy Rabera- Ernakulam 46) Christo Chirakkekkaran- Ernakulam 47) Akhil-Thrissur 48) Sreelekshmi Menon-Thrissur