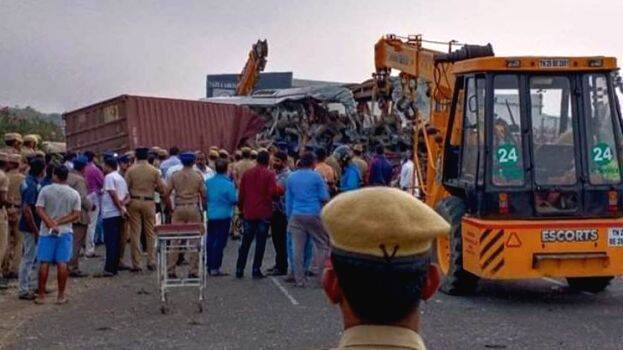 THIRUVANANTHAPURAM: The Kerala State Road Transport Corporation (KSRTC) has announced financial aid to the families of the passengers who were killed in a bus-truck collision in Coimbatore. For the families of the deceased, the aid would be Rs 10 lakhs. An interim aid of Rs 2 lakhs would be handed over to the affected, Transport Minister AK Saseendran said. For the families of the deceased KSRTC employees, Rs 30 lakhs has been announced as financial aid.
In the accident, 19 onboard the KSRTC bus from Bengaluru to Kochi were killed on colliding with a container truck. 25 passenger were left injured, with two in a critical state. Bodies of 11 were taken home after postmortem. A team of lawmakers including minister VS Sunil Kumar is camping in Avinashi. The minister said that required actions were taken to relieve the belongings of the deceased to their relatives.
The driver of the container truck, Hemaraj, a Palakkad native, surrendered after eight hours. In his recorded statement, the driver said the truck lost control. The police also think there is a possibility of the driver falling into a nap as the accident was during the wee hours. He was then subjected to a medical inspection.