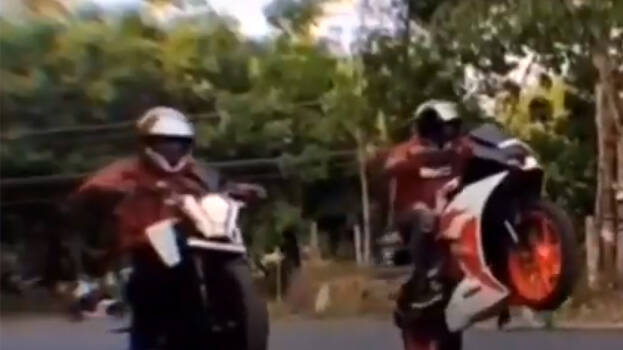 KOLLAM: An accident happened when youths were performing dangerous bike stunts in Pathanapuram. Two including a 15-year-old sustained injuries and has been admitted at the Punalur taluk hospital. The students drove the bikes rashly and performed bike stunts on top of the bridge connecting Elikattoor and Kannara.
The students were seen riding the bike lifting the front portion atop and riding in one tyre. Their acts were captured on video.
The accident happened when they were capturing the pictures of the stunts to post in TikTok. The luxury bike driven by the 15-year-old-boy and the one driven by Johnson, native of Elikattoor, collided. The two injured has been admitted at Pulloor taluk hospital.
Though the locals warned them from performing the dangerous stunts, the youths paid no heed to it. Locals said they escaped from a major tragedy as they were wearing helmets.