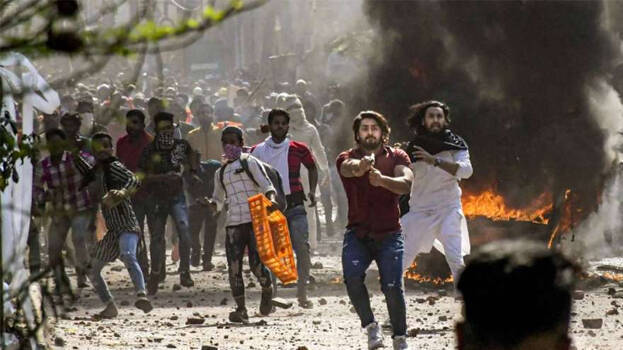 NEW DELHI: Five including a cop died in the violence that erupted over opposition to the Citizenship (Amendment) Act in the Jaffrabad, Maujpur and Bhajanpura areas of northeast Delhi on Monday. The violence took a communal colour and spread to other parts of northeast Delhi as organised groups attacked each other, setting shops and vehicles on fire. The condition of eight of the injured is stated to be serious.
Union Home Minister Amit Shah held a late-night meeting with the Delhi police chief, the Union Home Secretary and other senior officials. Three fire-fighters have been injured after a group of people set a fire engine ablaze and threw stones at another. The violence began on Monday hours before United States President Donald Trump, was expected in the capital. Trump is expected to spend the day in Delhi for the operative part of his state visit.
All government and private schools in northeast Delhi will be closed on Tuesday, Deputy Chief Minister Manish Sisodia tweeted.
Requesting Lt. Governor Anil Baijal and Union Home Minister Amit Shah to immediately deploy police to control the riot-like situation, Delhi Minister and Babarpur MLA Gopal Rai said in a tweet that there was an atmosphere of panic in Babarpur.
Also on Twitter, Lt. Governor Baijal said: "Instructed @DelhiPolice and @CPDelhito ensure that law and order is maintained in North East Delhi. The situation is being closely monitored. I urge everyone to exercise restraint."
Union Home Secretary Ajay Bhalla told reporters the situation was under control and sufficient forces had been deployed.
The situation escalated after BJP leader Kapil Mishra called a gathering on Sunday. Mishra demanded that police remove the anti-CAA protestors within three days.