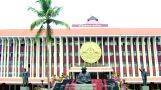 THIRUVANANTHAPURAM: Chief Minister Pinarayi Vijayan has said that Vigilance cases have been registered against 11 ministers in the previous UDF government.

The 11 ministers are former chief minister Oommen Chandy, former ministers K Babu, Adoor Prakash, P K Kunhalikutty, P J Joseph, Anoop Jacob, K P Mohanan, V K Ebrahim Kunju, V S Sivakumar and the late C N Balakrishnan and K M Mani.

Among these cases, the ones against Oommen Chandy and P J Joseph were closed after the court disposed the case and the ones against C N Balakrishnan and K M Mani were closed following their demise.

In the case against K P Mohan, the high court had cancelled the FIR. The cases against others are under investigation and under the consideration of the court.

"The instructions for converting police stations to Service Delivery Centres after bringing it under the ambit of the Kerala State Right to Service Act, 2012 is also under consideration," said the chief minister.