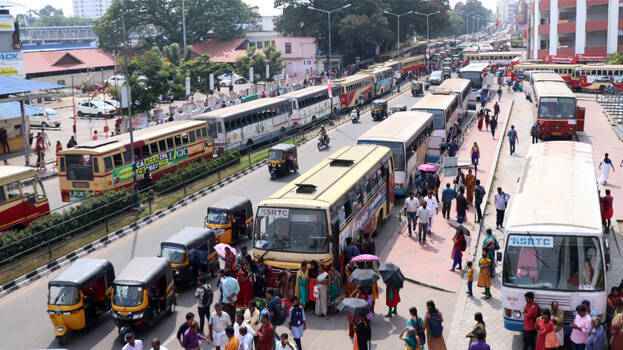 THIRUVANANTHAPURAM: The latest report suggests that authorities have taken strong action against the KSRTC employees who took part in the lightning strike in Thiruvananthapuram on Wednesday. The licenses of the drivers and conductors who parked the buses on the road will be suspended.
According to reports, the employees of 50 KSRTC buses were found guilty of participating in the lightning strike that affected the lives of several people in the city. More action will be taken once the Collector submits his report on the incident. Meanwhile, the City Police Commissioner has informed the Collector that there was no lapse from the part of the police in connection with the incident.
According to the report submitted by the Commissioner, police had intervened once there were reports of traffic block and law and order issues in the city. The report states that the KSRTC employees had manhandled a Sub Inspector and a police driver who reached the East Fort area upon learning that a private bus employee was being manhandled by the KSRTC employees. The footage of the incident was also handed over as evidence. The report also states that the passenger who collapsed during the strike was taken to the hospital within 8 minutes.
Meanwhile, six cases have been registered against KSRTC employees who conducted the strike on Wednesday. Thiruvananthapuram RTO, in his report to the transport minister, said that a traffic block was created after buses in the garage were parked on the road following the arrest of a KSRTC employee.