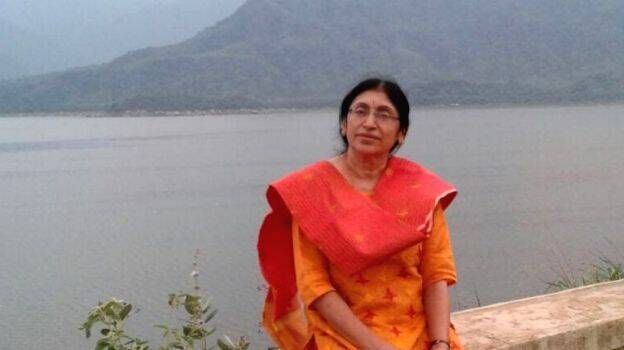 There are a few teachers who leave a lasting impression on their students. Ms Geetha Nair G, a retired English professor and poetess from Thiruvananthapuram is one such personality. She is the recipient of two international awards for poetry and short story respectively.
In a free-wheeling chat with Kaumudi.com on Women's day, she talked about her passion for literature, childhood, few women-related issues and more.
Geetha Nair feels that young women today enjoy more freedom but not without a flipside to it.
Educated young women, then and now?
"Remembering my young days when women's choice of profession was severely limited, I feel happy that many avenues have opened up for today's young women. Economically, they are much better off than we were. They are achievers. The flip side is the crumbling of the institution called marriage in some cases. I am all for equal rights of men and women. A great negative is the trauma that children of broken families undergo.
If asked to choose between then and now, I would say, without hesitation- Now," she opines.
An animal lover and a vegetarian, Ms Nair believes that one can live a good and useful life even without practicing any religion. God is within us and does not need external worship.
When she endorses gender equality and plays down the practices in religion, the professor feels that some traditions are sacrosanct. "Sabarimala is one such thing. Women can give up one Ayyappa temple, surely?," she quips.
The best poems are born when inspired by Nature and life. Geetha Nair's childhood was spent in the lap of beautiful Nilgris, which is resplendent with Nature's artistry.
"My childhood was spent in the lovely little cantonment town of Wellington, in the Nilgiris. My father was an army officer. The green meadows and blue hills, the trees and flowers left an indelible imprint on my young mind. The beauty and wildness still live in me," she recalls.

Your passion and the person who nudged you to trot the world of literature?
"To me, poetry is the loveliest and most truthful human utterance. Perhaps this passion for poetry is partly genetic. Kerala Kalidasa, Kerala Varma Valiya Koyi Thamburan, is an ancestor of mine.
There was a good library within walking distance of my home. My elder brother, who was my guide and a strong and salutary influence on me, used to take me with him every week to this library. I fell under the spell of books at a very early age.
"My first ambition was to be an engine driver! But, it shifted to teacher soon. I don't remember wanting to be anything else," she says.

When trees, flowers, birds and animals inspire her there is one person who virtually gave her wings to fly in the world of poems and prose – Dr Ayyappa Panicker, one of the most unassuming bards of Kerala.
"I started writing early in my life. I won prizes at college literary competitions and was fortunate to be encouraged by Dr Ayyappa Paniker, the poet, scholar and teacher. I was a member of the poetry club patronized by him. (Recently I was on the editorial team of an anthology of student voices about him- Ayyappa Paniker Forever. To me, it was a labour of love.)"

As a teacher, she is always the perfect guide for her students, even years after they graduate as her ex-students. She never walks into classrooms without a pleasant smile, which is the reflection of her impeccable sincerity and love for her students. There is some positive vibes all around when he teaches or guides her students
"My greatest wealth is the large family of students whom I taught. I was lucky to teach appreciative and loving students for more than three decades. A sense of fulfillment.....," as she puts it rightly.
Family and pursuit of passion?
However, Ms Nair sometimes feels that teaching job and family kept her "creativity submerged", or rather kept her literary works procrastinated.
"It was only after retirement that it surfaced and started to flow. I joined Poetry Chain, the prestigious club started by Gopikrishnan Kottoor, the renowned poet, for the revitalization and popularization of Indian poetry in English. The encouragement I got from its members helped me greatly to become a creative writer.
My first book of poems was SHORED FRAGMENTS. The next book, DRAWING FLAME, will.be published in April, 2020.
A collection of 33 of my short stories, WINE WOMAN AND WRONG, (HBB Publications, Delhi) is due in May.
"Several of my poems have been anthologized. A review of Shored FRAGMENTS will appear in this month's The Journal of the Poetry Society of India. This journal, edited by Shri H. K. Kaul, is the foremost poetry journal in India. The Punch Magazine, a leading literary magazine, has included a short story of mine in its upcoming Anthology."
Since her retirement, Ms Nair has made it her habit to write regularly. She has about 50 short stories already to her credit. She wants to write 50 more short stories and possibly a novel later, even when poems will keep churning out of her pen.
"I had believed myself incapable of creating the other harmony of prose. Then, a year back, Literary Vibes happened. I wrote a short story or two which were published in this excellent weekly magazine. The appreciation and encouragement shown by the Editor and several readers of Literary Vibes inspired me so greatly that I continued writing story after story, week after week.
Thirty three of the forty-odd stories I wrote for Literary Vibes last year have been accepted for publication by HBB Publishers, Delhi. The book is likely to come out almost simultaneously with my latest collection of poems, Drawing Flame. I am immensely grateful to Literary Vibes, my Muse, for making me a writer of short stories," she says with a heart full of gratitude.
It was for the short story TWO VOICES that she won the Bharat Award for Literature.

Besides her preoccupation with teaching and literary works, Ms Geetha Nair has always kept her family close to her heart. Her only daughter Meera Nair is a writer and actress; her late husband Muralidharan H was an ex-army officer who later retired as Sr vice-president of Reliance.
In January, 2019, when she launched her first anthology of poems –Shored Fragments, she hushed it up as a small private function held at her home in the presence of a few relatives, friends and students. There was a reason for it; her husband was ailing and undergoing treatment at that time but she had that immense power to hide that pain with a smile. A few months later he passed away.

Months after that, when one of her students asked why the launch was cut to size, she again smiled: "I knew my husband was sinking… I wanted him to be with me when I released my first book"

(You could send your feedback to the author of this article - kcashokindia@gmail.com)