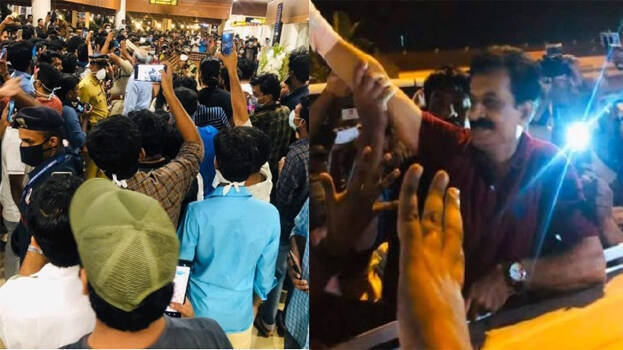 KOCHI: The police on Monday registered a case against 79 people for organising a mass reception for a popular reality show contestant on his arrival at the Cochin International Airport despite restrictions on such gatherings in view of the coronavirus threat.

Those booked are four named accused and 75 others, the police said.

The reality show participant and his supporters allegedly created chaos at the airport on Sunday by violating the directive issued by the government to prevent spread of novel coronavirus in the state.

The Nedumbassery police on Monday charged them under Sections 143, 147, 149, 188 and 283 of Indian Penal Code (IPC), which broadly deals with unlawful assembly, rioting, disobeying orders of a public servant and causing obstruction to public way and thereby causing danger for the general public.
According a reception to a contestant of a TV show by fans association on Sunday night at a time when the whole world is on high alert following the spread of the virus, is literally embarrassing. The district collector said that even when religious, political and communal organizations abandoned rituals where many gather for the safety of the people, law enforcement officers cannot close their eyes to such incidents of law violations.
The Keralites don't give much importance to star worship than human life. The action of a few people will bring a wrong impression to the society of Kerala, the collector mentioned in a Facebook post.

Ernakulam district Collector S Suhas slammed the behaviour of the crowd at the airport premises at a time when all sections of the society were on high alert over the spread of novel coronavirus.
Full text of the Facebook post