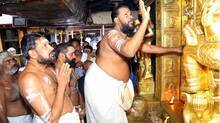 THIRUVANANTHAPURAM: Travancore Devaswom Board president N Vasu has said in the wake of Corona scare, there have been a big decline in the income of temples under Travancore Devaswom Board.
"This crisis can be overcome only through the daily income in coming months," N Vasu told Kerala Kaumudi. The flood of 2018 and the aftermath had affected Devaswon Board's income from temples including Sabarimala.
Sabarimala women's entry issue was the next thing to hit the Board's financial condition. Adding fuel to the fire came Corona scare next. The monthly income in Sabarimala has drastically come down.

All festivities have been reduced to rituals and pujas. Naturally, it is difficult to overcome this hard phase. It will be a big task to pay out salaries and pensions of employees this time.
We can ask for government help but their financial condition is worse than that of us. Now our hope rests only on the donation of money by devotees at Sannidhanam in the coming months," Vasu said adding that devotees were cooperating well with the government and obeying Devaswom board's instructions.