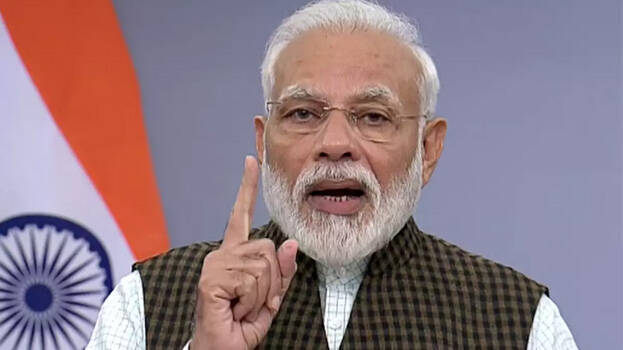 NEW DELHI: Amid the total lockdown in many states and increase in novel coronavirus positive cases in India, Prime Minister Narendra Modi said that he will address the nation again at 8 pm on Tuesday.
"Will address the nation at 8 pm today on the vital aspects relating to the menace of COVID-19," Modi said in a tweet.
On Tuesday, India's total coronavirus positive cases rose with nine deaths across the country, 36 cases of cured patients.
The Prime Minister had addressed the nation on Thursday night as well and appealed for Janata Curfew between 7 am and 9 pm on Sunday.
Since then, almost all of India has come under complete lockdown, with states like Punjab imposing a curfew.


The Prime Minister had yesterday interacted with the industry and the media to discuss the fallout of coronavirus or COVID-19, which has taken over 14,000 lives worldwide and infected over 3 lakh.
Modi had also talked about the steps taken by the government to combat Covid-19.
In India, nine people have died.
Trains, metros and inter-state buses have been stopped and airlines will stop flying from tomorrow.
Modi had yesterday expressed concern in a tweet that many were not taking the lockdown seriously. "Many people are still not taking the lockdown seriously. Please save yourself, save your family, follow the instructions seriously. I request state governments to ensure rules and laws are followed," he tweeted in Hindi.