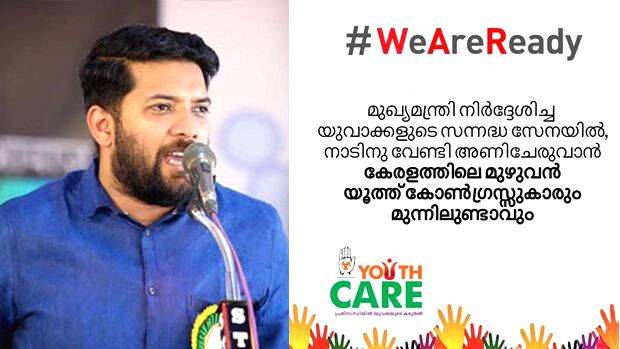 THIRUVANANTHAPURAM: The Youth Congress on Thursday took up the Chief Minister's call for a youth volunteer force to fight against the novel coronavirus. Following the chief minister's call for youngsters who can come forward to fight the pandemic, the Youth Congress workers responded by using the hashtag #WeAreReady. Youth Congress State President Shafi Parambil and Vice President Sabarinathan MLA have extended their support to the volunteer force.
Earlier, Chief Minister Pinarayi Vijayan had stated that 2.36 lakh youngsters between the age of 22 and 40 will join the volunteer force to take up necessary services that have emerged in the current situation. While 200 volunteers each will be identified from the 941 panchayats, 500 volunteers each will be identified from 87 municipalities and 750 each from the six corporations. The registrations of the volunteers will be done online using a web portal, Sannadham.

The volunteers will be required to take up various responsibilities such as delivering food and provisions to poor families and families in quarantine. The volunteers will also have to identify isolated families in various parts of the state. The volunteers will be provided identity cards and their travel expenses will be looked after by authorities. The Chief Minister had also stated that the State Youth Commission had already identified 1465 youth volunteers and has handed over the list to the authorities.