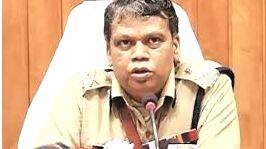 THIRUVANANTHAPURAM: State police chief Lokanath Behera said all necessary measures should be taken to ensure the safety of police officers who are on duty in streets to prevent the spread of coronavirus. Guidelines regarding this will be issued, he said.
As the restrictions will be in place for a long time, there are plans to change the duty shifts of the officers.
In his order issued on Thursday, Behera said all police officers should wear masks and use sanitizers. Water and food should be made available to police officials. There should be able to wash hands at regular intervals. Social distancing should be mandatory. The officers shouldn't touch people or vehicles. DGP Behera added that the well being of police officers on duty out in the sun is the responsibility of district police chiefs.
Officers of DySP rank are tasked with assigning the duty of police officers. Measures will be taken by Range DIGs and Zonal IGs to ensure the well being of police officers. An officer of assistant commandant rank will be assigned to ensure the welfare of officers in the battalion. Police officers from the battalion who are not on duty should stay in barracks. Higher officers should give clear daily instruction to the police officers, Behera said.